2021 Rhode Island Aquatic Hall of Fame Inductees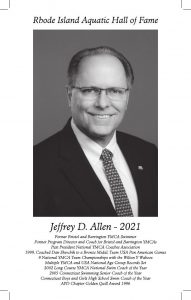 Jeff Allen taught swimming, coached and directed many aquatic programs here in Rhode Island, Connecticut and elsewhere and has demonstrated extraordinary talent as a teacher, coach, and administrator of competitive swimming and aquatic programs for over thirty-five years. While in Rhode Island, Jeff coached and taught swimming at the Barrington and Bristol YMCAs and at Mount Hope High School. He has coached athletes who competed in the Pan American Games, United States Olympic Trials and YMCA Nationals. He has been named the Connecticut Boys Swimming Coach of the Year and the Connecticut Girls Swimming Coach of the Year. Jeff presently is a professional with United States Swimming serving as the Eastern Sports Development Consultant. Recently Swimming World Magazine recognized Jeff as one of the ten most impactful people of 2019.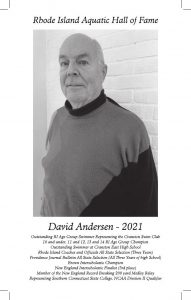 David Andersen was a member of the Cranston High School swim dynasty of the 1960's coached by Ed Golden. Dave attended Cranston East High School (1959-1963) and Southern Connecticut State College (1963-1967). As a member of the Cranston Swim Club he was an outstanding swimmer. While in high school Dave achieved All State honors in all three varsity years (freshmen could not compete). In 1963 he was 1st team in the 50 Free, 100 Free, Medley Relay, and Free Relay. He was the 50 Free New England Interscholastic Champion and a member of the New England Medley Relay championship team. The winning team set a New England record. Dave was a Brown Interscholastic finalist all three years and in 1963 championed the 50 Free. While at Southern Conn. he qualified for the NCAA Division II championships. David continued his passion for swimming coaching the Chicopee High School team until becoming the Assistant Superintendent of Schools.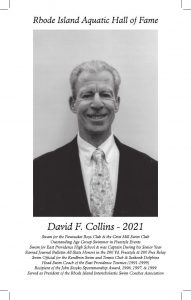 David Collins grew up in East Providence and attended East Providence High School. He started swimming competitively at the age of 12 for the Pawtucket Boys Club coached by Ellis Mayers. David swam for the Grist Mill Swim Club during the summer months. As an East Providence High School swimmer Dave earned All State Honors in the 200 and 400 Free Relays. He was captain of the swim team during his senior year. After graduating from RI College, David became a teacher in the East Providence School System and became the Townies Head Swim Coach in 1991. Before becoming Head Coach, Dave was a swim official for Kendbrin Swim Club and the Seekonk Dolphins. While coaching at EP David had multiple winning seasons, coached 3 future Rhode Island Aquatic Hall of Fame inductees, and lead the team to State Runner Up honors on two occasions. Many of his athletes earned All Division and All State Honors. In addition to coaching, David served the Rhode Island Interscholastic Swim Coaches Association as President. His professional leadership, dedication, and passion for the sport of swimming defines David.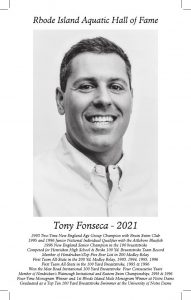 Tony Fonseca grew up in the Greenville section of Smithfield, RI. As an age group swimmer, Tony competed for the Little Rhody Aquatic Club, Bruin Swim Club, and Attleboro Blue Fish. He was a New England Age Group Champion, a Zone qualifier and finalist, and a Junior National qualifier. At Bishop Hendricken High School, coached by Dave Hanson, Tony was a First Team All Stater all four years; Max Read Champion; and a member of Hendricken's State Championship teams four years in a row. Tony graduated with two school team records. Upon graduating from Hendricken Tony attended and competed for Notre Dame. He continued his successful career in swimming by significantly contributing to the Notre Dame program from his freshman through senior years. Tony scored in the Big East Championships in an individual event three of the four years. Notre Dame finished second in the Big East Championship in 1999 and 2000 and Tony placed 15th in the 100 Breaststroke both years. Tony continues to contribute to the sport of swimming coaching at the Seekonk Swim and Tennis Club.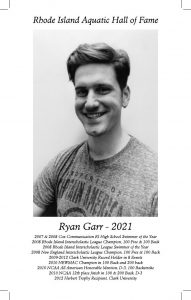 Ryan Garr of South Kingstown, Rhode Island won just about every backstroke and sprint freestyle event he entered in high school and collegiate swimming. During his age group years, Ryan competed for South Kingstown YMCA and the Ram Swim Club. During his high school years Ryan competed for the South Kingstown High School and after high school he swam for Clark University. Ryan set a New England Interscholastic Record in the 100 yard backstroke and set two Rhode Island Interscholastic records, first in the 100 yard backstroke and then in the 100 yard freestyle. In 2008 he was the Rhode Island Swimmer of the Year and the Cox Communications Swimmer of the Year. At Clark University Ryan broke 8 university individual school records and 5 relay records. Ryan competed in the NCAA Championships in 2010 placing in both the 100 backstroke and 100 freestyle. He was named NCAA All American Honorable Mention. At Clark University, Ryan was awarded the Hebert Trophy Award for the university's most outstanding contributions to the athletic program.
David Hague competed in age group swimming for the Cranston Swim Club under Coach James Lynch and continued his swimming career at Western Hills Middle School and Cranston West High School. David was an excellent age grouper, middle school, and high school swimmer. In high school he earned Journal Bulletin 1st team All State Honors on the 400 Free Relay all three years and was a finalist in the New England Interscholastic Championship Swim Meet. David attended Keene State College again successfully competing all four years at the New England intercollegiate level. In 1976 he competed in the NCAA Division II Nationals and placed 11th earning All American honors. David continued swimming at the Master Level of United States Swimming and has earned many titles adding two World Records to his resume. David is being inducted into the Aquatic Hall of Fame for his most notable achievements of teaching and coaching; he has coached numerous Texas High School All State Swimmers and All Americans, During his 41 years of teaching and coaching David has been named National High School Boys Swimming Coach of the Year, Texas High School Boys Swimming Coach of the Year, and earned a Lifetime Achievement Award from the Texas Interscholastic Swim Coaches Association.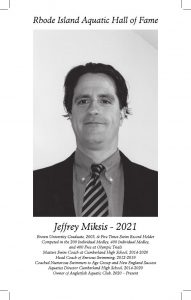 Jeff Miksis, a Rhode Island resident since 1999, presently resides in Cumberland. Jeff was an outstanding swimmer at the Peddie School in New Jersey before moving to Rhode Island and enrolling as a student at Brown University. He was an outstanding swimmer at the Peddie School and Brown University. Jeff's accomplishments at Brown were amazing: University record holder in 200 and 500 freestyle, 200 and 400 Individual Medley, and 800 free relay. Jeff was a National qualifier, Olympic Trial qualifier, and much more. He graduated in 2003 and attended graduate school at Bryant University until 2007. After swimming in College and beyond, Jeff decided to coach. Jeff began his coaching career at the East Providence Boys and Girls Club in 2010 and later joined the coaching staff of Envious Swimming and immediately had a positive impact. He became the Senior Head Coach and was responsible for many swimmers who qualified for New England and Junior National competitions. Jeff continues to coach and is now the owner and Head Coach of Anglerfish Aquatics. In addition to coaching age group swimming, Jeff has been deeply involved in working with Master's Level Swimming. Many of the United States Swimming Master's involved in the Anglerfish Aquatic program credit Jeff with their development and success.